The Genealogy of David L. Moody & Yvonne L. La Pointe. - Person Sheet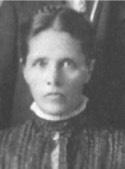 Misc. Notes
Soken means parish. Or is on Lake Orsjon about half way between Högsäter and Mellerud. She emigrated to the United States on 27 June 1881. She returned to Sweden for the birth of their third child, Selma Olive on 1 June 1886. She became a naturalized United States citizen in 1887.
®162
They moved to Ashland, Wisconsin in 1887. On the 15 April 1910 census she had 8 children of whom 7 were still alive.
®4053
She died on the farm of her son Frank in Sanborn, Wisconsin in 1919.
®185
Research
Spouses
Misc. Notes
Research